The 580-mile Jining-Tongliao Railway was completed across Inner Mongolia in 1995 as a Beijing bypass for trains in northern China. While the national government paid for the construction of the line, it left the operating costs to Inner Mongolia. As one of the poorest provinces in the country, the local government looked for the cheapest equipment available — it found the National Railways' leftover "QJ" steam locomotives.
For ten years, the Ji-Tong Railway was Mecca for train lovers across the globe, its QJs serving as cultural ambassadors to thousands of admirers. Decades after the west stopped using steam in regular service, the QJs hustled as many as thirty trains a day across the sweeping grasslands and rugged mountains of Inner Mongolia.
Progress had nearly caught up with the QJs by the time I reached them. In its flurry of preparations for the 2008 Beijing Olympics, China was replacing the last of its steam engines with diesel power. When I arrived in October 2005, steam remained on only one division, the 95 miles between Daban and Chabuga.
To ease myself into world travel, I began in the comfort of an organized "steam tour." I saw lots of trains, took hundreds of photos, and made several new friends…but something was missing. Here and there along the tracks, I had fleeting views of a world so incredibly different than anything I had ever known. It fascinated me, yet it flickered just beyond my reach, obscured by the bus windows as we sped away to the next photo location.
So when the tour group went home, I stayed in Daban. I had met Ronald Olsen, an independent American traveler who spoke Mandarin and was planning to ride his bike along all 95 miles of steam railroad, camping out along the way. It sounded like the perfect way to better understand the railroad's cultural landscape. To join him, all I needed was a bicycle.
"You can buy a bike for $25 in Daban," he told me. "I know this, because I once tried to buy a new rack for my mountain bike, and that's the price the salesman gave me. I was pointing at the rack, but he thought I meant the entire bicycle!"
Prices had risen since then. I paid $45 for a red ten-speed that, I can only hope, will be the worst bicycle I ever own.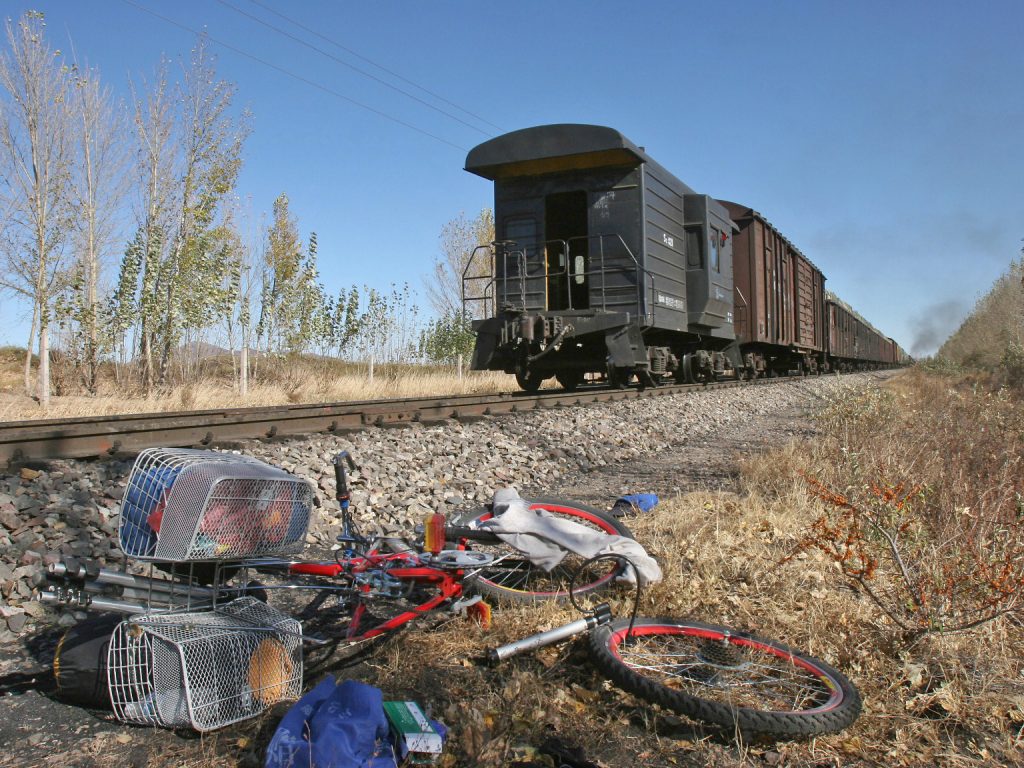 Ron had carefully planned our trip to run west to east, with the prevailing wind at our backs and going mostly downhill from Daban's 2103-foot elevation to Chabuga's 1355. At my urging, he had also relaxed the itinerary from three days to five, to allow a more leisurely pace and more time for photography. Our goal for the first night was Gulumanhan, two stations and 23 miles down the line.
Two hours after leaving our hotel, we were still in Daban. Those two hours had included a return visit to the bike shop for adjustments to my shifters, which were already acting up, plus a stop for our own adjustments after my chain fell off, plus a long wait for a bowl of noodles while the Mongolian proprietor hawked his home-brewed alcohol, a concoction that Ron speculated "had probably killed more Chinese than Genghis Khan's invaders."
As we finally climbed towards the railroad on the outskirts of town, Ron turned his pedals smoothly and evenly, cruising from a seated position. I had to stand, my progress coming slowly in lurching jerks. My calves screamed and my thighs were already throbbing as we bounced off the paved road and onto the ballasted path alongside the tracks.
"Are you sure we'll make Gulumanhan?" I shouted above the wind.
"Oh, we'll make Gulumanhan!"
We did not make Gulumanhan. Not that day. The shepherds were already bringing in their flocks for the night when we limped into Baomutu, the first station east of Daban, a distance of only 10 miles. I was nursing a busted pedal from an impact with a cement kilometer post, my so-called 10-speed was down to about three working gears, and with each additional movement below my waist, sharp pains stabbed parts of me that I previously hadn't known existed.
We arrived in time to watch railway workers hang new color-light signals that would replace the manual semaphores, one of many signs of modernization along the railroad.
After setting up camp, we discovered that, between the two of us, we had brought four pairs of gloves, but not one single spoon. That oversight led us to the brick hut by the road crossing, staffed round-the-clock by an old gatekeeper who manually lowers the barriers for each passing train. He gave us a spoon and hot water, and later served Mongolia milk tea as trains passed through the night, candles illuminating the hut while all the electricity from his windmill went to a tiny, black-and-white TV receiving only one channel.
In the morning, the gatekeeper led us to the village where, at a shop that I first thought was abandoned, a man built like a fireplug rode up on a motorcycle, and began fixing my busted pedal. He was soon joined by several friends, called in — I can only presume — to laugh at us. He gladly accepted $2.50 for his trouble that Sunday morning, and they all wished us good luck.
Thirty-some hours after setting out from Daban, we finally arrived at Gulumanhan. We had averaged less than one mile per hour, and had not-so-affectionately dubbed my bike "The Chinese Rattletrap." I felt even worse after the second day, and my pedal had broken again, but Ron remained hopeful that we'd find someone to fix it in the morning. I was less enthusiastic, both because of the bike and my own aching body, and I was beginning to wonder which one was the worse-suited for the trip.
Gulumanhan was a water stop for all westbound trains, and we made camp in a cottonwood grove between the road and railway. We photographed long into the moonlit night, and found hot water and ample conversation from the workers' shack next to the water tower.
We rose at dawn for the morning passenger train, followed by a double-headed freight each way, and we then continued on ongoing tour of every bicycle repair shop along the Jitong Railway.
A couple miles in the morning sun brought us to a dirt road crossing staffed by another quiet, friendly old man. His wife, an equally sun-worn woman with a black ponytail sticking out of a camouflaged cap, emerged from their hut with a sack of roasted sunflower seeds.
We lingered beside them, suspended at the cusp of a land in transition. Out on the highway, buses, taxis, and trucks whizzed by with horns blaring. On the dirt road beside us, the gatekeeper's chickens pecked and scratched while puttering three-wheeled trucks and plodding donkey carts slowly bumped over the tracks.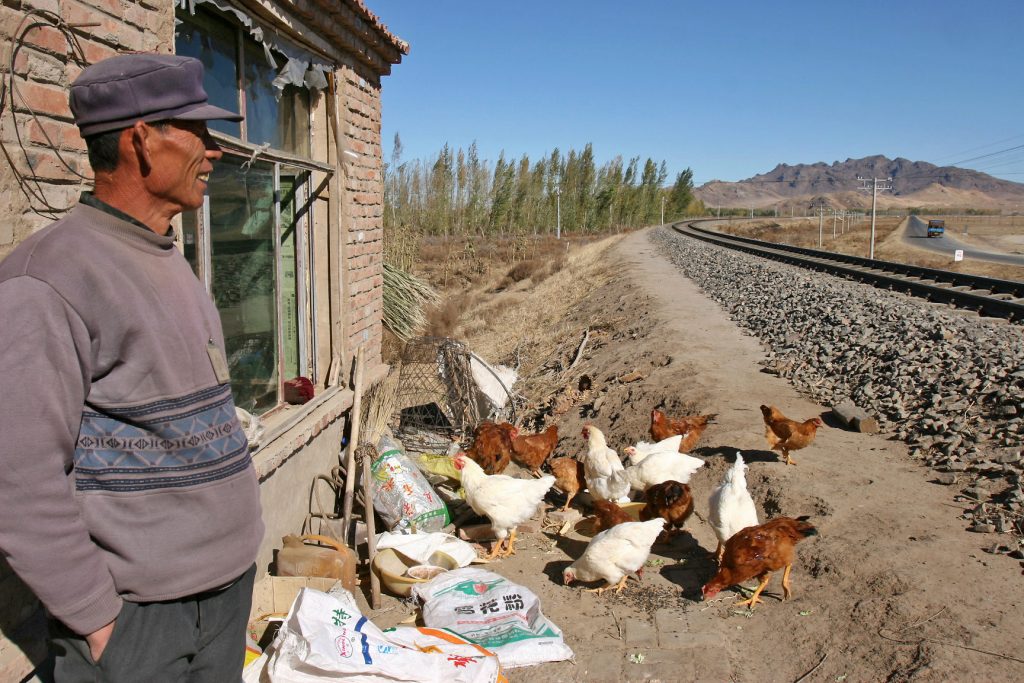 Eventually, Ron and I wandered across the highway to the bright, new gas station. In the run-down building beside it, we found a general store doing business on a glass counter in an otherwise empty room. Tree-trunk rafters supported a thatched roof, while dust covered the cracked concrete floor, the bare walls, and several crates of glass beer bottles.
The proprietor was thirty-ish, clean-cut in a camouflaged jacket. For $1.25, he fixed my busted pedal to a crowd of nine onlookers.
Not two miles down the line, I got my first flat tire. At least the railway provided another double-headed freight to entertain us during the repair.
---
At the end of a long, lonely stretch of empty range, we found a windblown crossing of dirt ruts that disappeared into the rolling hills. A wrinkled old man appeared, laughed hysterically at our height, and led us across the dusty path to an even dustier field where his wife, son, and daughter-in-law bent over yellow bundles of straw. He picked up a piece of straw, stripped the crisp, sun-dried skin, and tossed the rest into a pile beside him.
"What are they doing?" I asked Ron.
"Making brooms. They get 25 cents per bundle."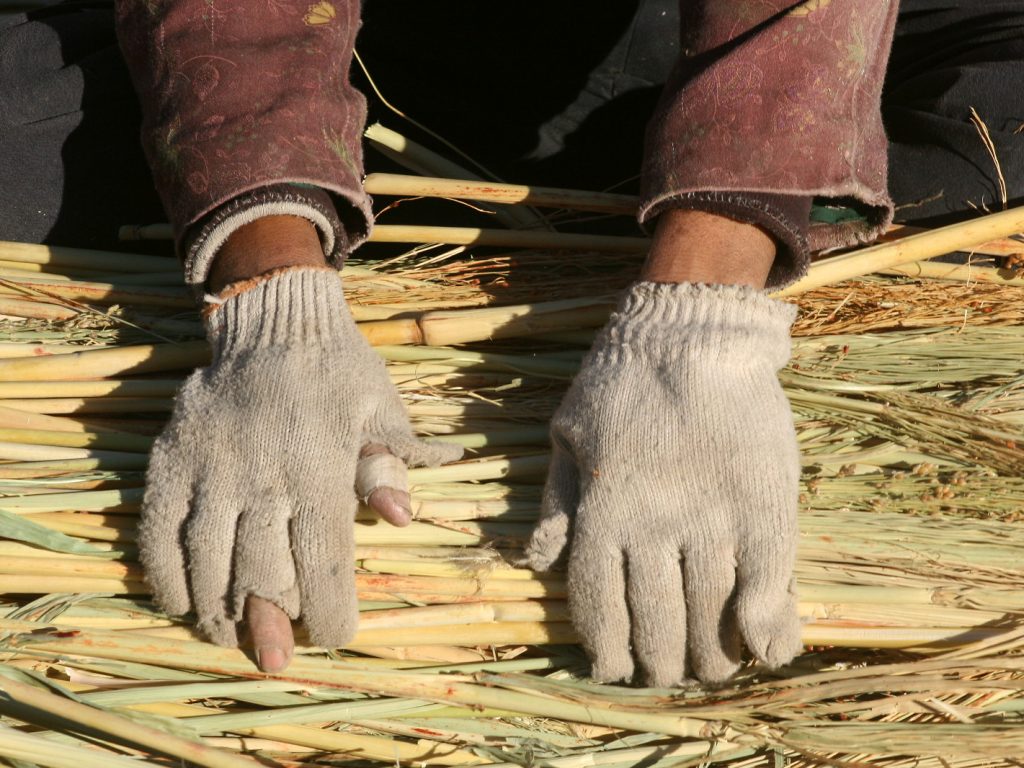 Ron had a long-time friend among the railway workers at Chagganhada, and through him, we had quickly befriended the entire crew. They provided tea and hot water for our dinner while practicing their English, then gave us beds in the railroad bunkhouse and let us take all the night photos we wanted.
In the morning, after photographing the passenger train with the setting moon, we discovered that both of my tires were flat. Ron and his friends sprang into action, but after three patches, one tire was still bleeding air. We finally discovered a leaky valve and pulled out the spare inner tube. Only to discover that its valve wouldn't mate with our pump.
Here we made an executive decision. We would continue with only Ron's bike, leap frogging and trading off along the way. Ron's friends eagerly accepted the remains of my rattletrap, and after a short westbound freight went by, we set off on the fourth day of our journey.
We made more miles in that day of sharing Ron's bike than we'd managed in any of the previous three.
In Dariqiga, new signals already stood beside the old semaphores. We found a group of workers adding a second, longer siding. They were a lot more interested in Ron's mountain bike than the trains passing behind them.
At sunset, we arrived at the Route 305 crossing, five miles out of Lindong, roughly the half-way point on the division. Ron struck up a conversation with the young gatekeeper, who introduced the man beside him as the truck driver for the section gang. We had soon arranged a ride to the edge of town. Sitting in the back of the truck that evening, weaving in and out of traffic with the October wind crisp and sharp and all around us, for a moment I think I realized just what a special thing we were doing.
---
The rest of the trip went nearly as well as we could have imagined. Too well, I have since realized. We still had struggles – an all day trudge through the hot desert east of Lindong, riding out — and riding through — a windstorm at Diaojuaduan. And we still had rewards – an all-night vigil on top of a hill that ended with the sensory feast of a freight train charging up the grade minutes after sunrise. From there, we walked side-by-side, pushing Ron's bike, down the last five miles to Chabuga, our journey complete. Within an hour, we were on a bus heading back to Daban, where we continued our photography until the end of steam.
After abandoning my bike in Chagganhada, we made better time and the trip went more smoothly, but we lost something, too. We lost the need to find repair shops, the need to ask for help, the need to interact. It was those interactions, that reliance on others, that made the trip so special. That bike may have been the worst I'll ever own, but for what it taught me about China, it might be the best 45 dollars I'll ever spend.
More than the steam locomotives have disappeared from the Jitong Line since the fall of 2005. The railroad's switch to diesel power brought a host of other modernizations. Gone are the cabooses and their defacto local passenger service. Gone are the manual switches and semaphores, as well as their operators. Gone, too, are so many of the workers needed to tend the demanding Qjs. And gone are so many of the crossing huts and their friendly gatekeepers, including the one in Baomutu.
Shepherds no longer tend their flocks in the hills surrounding Baomutu. If I returned today, I would not recognize it. Baomutu is now a busy junction with a new railway line to south, providing a direct link from Daban, via Chifeng, all the way to Beijing. I wouldn't miss the harrowing, three-hour bus ride between Chifeng and Daban, but I'd sure miss that old gatekeeper.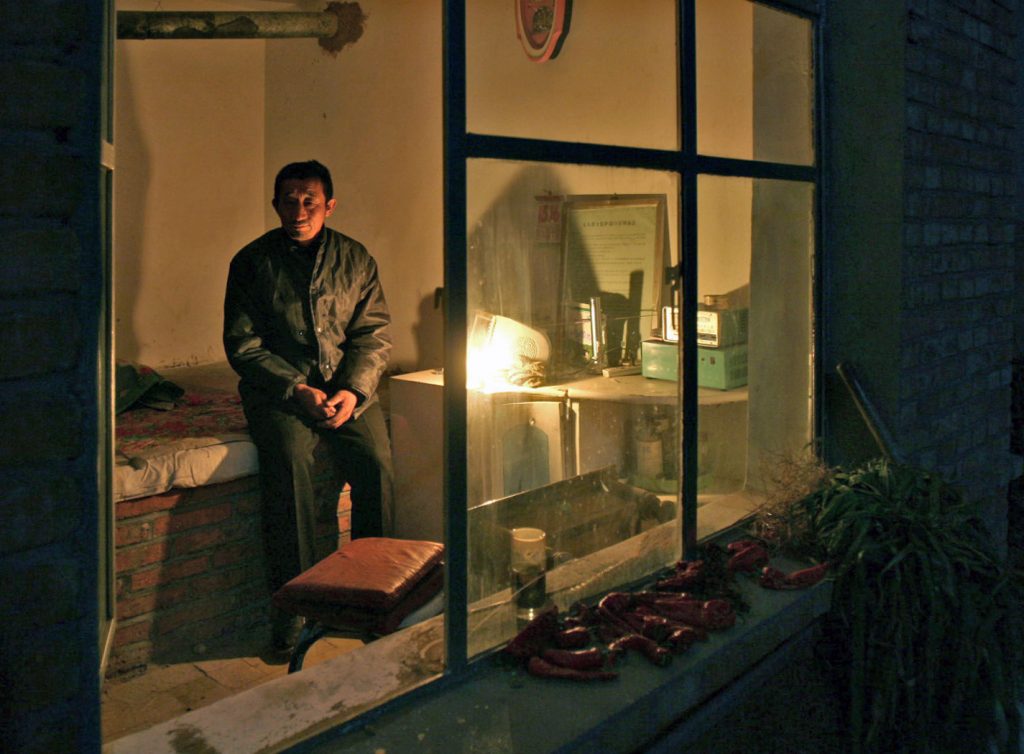 I doubt that many of the locals will miss the steam locomotives, though. I once watched a group of farmers rush into their fields to put out the fires that cinders from a passing train had started. The railway workers offered no assistance. They just laughed at the flames. For my part, I could only watch. I was powerless to act, powerless even to take photographs.
In that moment, I fully understood that my place in China was merely that of itinerant observer. And yet in spite of that, or maybe because of it, I found warm welcomes and sincere curiosity nearly everywhere I turned. I discovered a place that was every bit as fascinating as the railroad I had gone to see, and whose alteration was every bit as certain.